MATCH RECAP: Chippenham Town 0-1 Slough Town | National League South, Tues 27th Sept 2022
A recap of Chippenham Town 0-1 Slough Town.
---
STARTING XI | Here's how your Bluebirds line-up for tonight's game against Slough Town.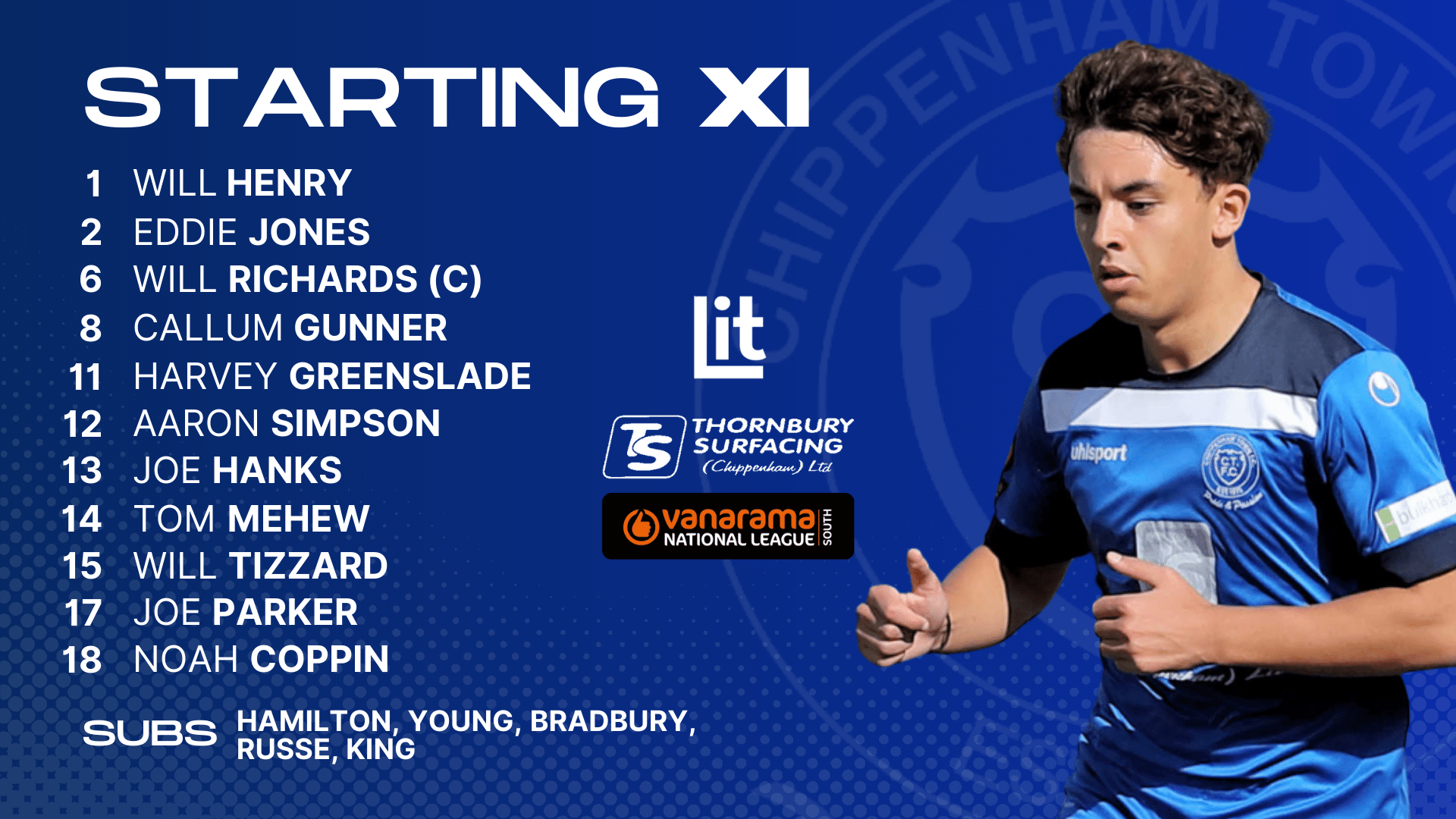 KICK OFF
1′ KICKOFF! | We are underway!
10′ | First chance of the night for Slough as Goddard delivers a ball towards Kuhl who fires well over.
11′ | Hanks wins a corner in a quick change of ends as Roberts clears the ball out, eventual corner is exchanged between both sides until Mehew connects on the end of a shot which goes over.
15′ | Lench wins a free kick which is taken quick towards Harris looking to strike on-goal however the ball goes over everyone and the No. 9 goes into the netting.
17′ | Bit of drama here as a challenge involving Tizzard and Harris means the No. 9 is down injured, Chippenham gain possession of the ball and a cross from Jones towards Coppin finds the No. 18 before he's brought down. No decision made by the ref.
19′ | Looks like a stretcher is being called as personnel are out across the pitch.
22′ | The No. 9, Ben Harris gets back on his feet, however he can't continue as he's carried off with what appears to be a leg injury.
24′ | Brilliant play from Chippenham as Greenslade finds Hanks who chips it over towards Simpson, the No. 12 does well to get the ball but has to clear it out for a Slough throw-in.
28′ | Joe Parker is waived offside following a great delivery by Hanks, Chippenham continue to apply pressure.
30′ | Chippenham still applying pressure as Hanks delivers a great through ball towards Greenslade and Coppin, Slough eventually clear it away until another chance finds Coppin in the box who headers into Forster.
32′ CHANCE! | Hanks drives through the Slough defence, having Coppin nearby him. But he shoots with a low-driven effort which is caught by Forster.
38′ | Free kick for Chippenham as Kuhl fouls Coppin with a high foot.
45+' | 4 added minutes
HALF TIME: Chippenham Town 0-0 Slough Town
The two teams are back out for the 2nd half.
45′ SECOND HALF! | We are back underway for the 2nd half.
46′ | Chippenham immediately on the ball as an appeal for a handball near the penalty area instead goes for a free-kick. Mehew stands over.
56′ | Free kick for Chippenham just outside the penalty box.
59′ | Challenge involving Gunner and Jackman gives the visitors the free kick.
59′ | Callum Gunner is booked.
60′ | Resulting free kick goes over everyone despite Kuhl looking to connect on the end, he tangles up with Tizzard in the end and the ball goes out.
61′ | Manny Williams is flagged offside following an opportunity for the visitors.
64′ | SUB! | Young on for Coppin
74′ | Chippenham still looking to create chances as Young feeds a nice ball towards Greenslade who chases past the Slough defence, until Mehew collects and tries a long ball towards goal but he's not able to make use.
75′ | Brilliant save by Will Henry to stop Goddard from scoring for Slough there.
77′ CHANCE! | Mehew helps Young who's under pressure from the Slough midfield by taking the ball and finding Greenslade who charges on goal and shoots, but his shot is wide and into the side netting.
79′ | GOAL | Slough take the lead via Josh Jackman who headers past Henry in the far post.
79′ SUB! | Russe on for Mehew
81′ | Goddard almost makes it two as he drives forward towards goal and tries to go past Henry, but great block by the man between the sticks.
83′ | SUB! | Bradbury on for Gunner
86′ | Great long ball from Jones tries to find Hanks in the box who looks to header on-target, but the ball goes out.
90+' | 4 added minutes
Today's attendance: 511
FULL TIME: Chippenham Town 0-1 Slough Town
FULL TIME: It finishes in defeat for The Bluebirds.
Thank you to all supporters who attended and got behind the team tonight!
We will see you all on Saturday for a big game ahead!